John Bowen, President
John has been active in community theatre for 25 years. An educator and communicator his entire career, he works today as an analyst in Learning and Development at State Farm. He's also had stints as a high school English teacher and theatre director, professional writer, instructional designer and consultant. John has always appreciated Heartland's contribution to the community; the first play he saw after moving to Bloomington/Normal was a Heartland production. And he's been onstage ever since, starting with THE RAINMAKER in 1999 and more recently THE DIVINERS, CLYBOURNE PARK, PHOTOGRAPH 51 and MARJORIE PRIME. He values the opportunity to keep Heartland a vibrant part of the twin cities' art community.
---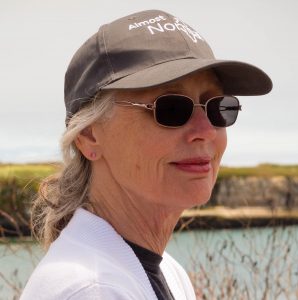 Kathleen Kirk, Vice-President
Kathleen Kirk has extensive theatre experience in Chicago and the local community. She has served as an actor, director, assistant director, and dramaturge for productions at Heartland Theatre, and she writes scripts for the Evergreen Cemetery Walk and annual History Makers Gala for Illinois Voices Theatre. At Heartland, she appeared most recently as Marjorie in Marjorie Prime. She has served as Instructor for Young at Heartland and on the New Plays from the Heartland committee. In Chicago, she worked as an actor with Steppenwolf, Court Theatre, and the Free Shakespeare Company, among others, and directed in the New Plays Festival at Organic Theater. Kathleen is the poetry editor and background editor-in-chief for Escape Into Life, an online arts journal. Her community service includes educational programming for the McLean County Museum of History and judging for the annual NAACP ACT-SO competition. She works part time at the Normal Public Library, where she also facilitates poetry programming and sets up displays for Heartland Theatre's An Inside Look.
---
Nancy Nickerson, Secretary
Nancy is an office professional with more than 30 years of secretarial and office administration experience, including positions such as Executive Assistant and Office Manager for large companies. Nancy's theater experience also spans many years. She has appeared in a number of productions at Heartland Theatre Company such as SONS OF THE PROPHET, FIGHTING WORDS, A NICE FAMILY GATHERING, and has worked as a volunteer at Heartland as usher and in the box office. Nancy has also appeared in many productions at Community Players Theatre, Lincoln Community Theatre and Prairie Fire Theatre. She was a founding member of Pied Piper Playhouse, a children's theater group in Tupelo, Mississippi, and performed (actor, pianist, musical director) for many of their performances.
---
Barb Lemmon, Treasurer
Barb recently retired from State Farm after more than 39 years in the Actuarial Department. Barb is active in her church, sings in the choir, and plays the violin. Barb is also currently serving as the chair for the task force planning for 1st Pres' 150th birthday, and is serving a 3-year term on the church's Personnel Committee. Barb has supported the Bloomington Normal Youth Symphony in the '90s and again the past 5 years on the Board of Directors, serving in Secretary and Treasurer roles and assuming the presidency in June 2017. Barb became involved in theater in 1998, joining the pit orchestra as violinist when her husband Dave was cast in 1776 at Community Players. She played violin in the pit orchestra for many productions, was music director for a summer youth show and served on the Board of Governors for 2 years, and served as house manager for several shows.The past several years, Barb has volunteered at Heartland Theatre as an usher and a box office volunteer.
---
Sandra Zielinski, Past President
Sandra Zielinski is a Professor Emeritia from the School of Theatre and Dance at ISU. She has served the field of theatre education for over forty-three years in secondary and collegiate teaching and directing. She was the Administrator of the Theatre Education Entitlement Program 6-12 in the School of Theatre and Dance. Sandra has directed numerous plays at Heartland, including FLOYD COLLINS, THE HOMECOMING, THE CLEAN HOUSE, MAURITIUS, THE TRIP TO BOUNTIFUL, THE DRAWER BOY and DINNER WITH FRIENDS, to name a few. Sandra's credits also include directing in Chicago and acting in several independent Chicago films as well as directing for the Illinois Shakespeare Festival, the Idaho Repertory Theatre, Victory Gardens Greenhouse Theatre, Collaboraction Theatre in Chicago and the University of Illinois Studio Theatre in Urbana. She has received top honors from the Kennedy Center American College Theatre Festival in Washington, DC.
---
Connie Blick
Connie was an acting major at Illinois State University in 2002, and currently works as Office Manager for The School of Theatre and Dance at ISU. After college she moved to Chicago, auditioning with representation by Stewart Talent. Then Connie and her husband Zach came back to Normal to raise a family.
Connie saw her first Heartland Theatre production, FALLING, directed by Lori Adams. Immersed from the very first scene, she had "witnessed an incredible ensemble performance with first rate talent, equivalent to any professional theatre production." She knew that when the time was right, Heartland Theatre Company would be the theatre she would love to be involved in.
---
Bruce Boeck
Bruce Boeck has been involved with many facets of Heartland Theatre since first becoming involved in 1999. He has acted in numerous productions (NEVER THE SINNER, A FAIR COUNTRY, THE ANDERSONVILLE TRIAL, THE TRESTLE AT POPELICK CREEK, THE WOMEN OF LOCKERBIE, AFRAID OF FRANKENSTEIN), was stage manager for BOY GETS GIRL, did lighting for STAGES, and has appeared regularly in Young at Heartland as an actor. As a playwright, his plays have appeared across North America, including three plays that were performed as part of Heartland Theatre's 10-Minute Play Festival (DEATH LOVES CHOCOLATE, CRICKETS, LIBRARY NOIR) and many short plays written for Young at Heartland. He also runs a playwriting group, Playwrights Anonymous. When not busily writing, Bruce teaches Psychology at Lincoln College in Normal, and has a private practice as a therapist in Normal. He went to IWU and ISU, receiving a Master's in Counseling Psychology from ISU. He lives in Normal with his wife, Diane, and three crazy cats.
---
John W. Kirk
Founder of the Department of Theatre at Illinois State University, Dr. Kirk spent over thirty years on the faculty there. Dr. Kirk taught play writing at Illinois State University for 20 years. He has written 11 full length plays and several shorter plays which have been workshopped or staged from ISU to Broadway. over thirty years on the faculty there. He has written thirteen plays, directed over fifty stage productions and published two theatre texts as well as several other publications. He has performed as an actor and directed many plays at Heartland Theatre over the years including his play STAGES in 2001. He was the Managing Director of the Greenview Arts Center in Chicago and has directed off-Broadway in New York. He toured the country as the national play judge for the American College Theatre Festival. Kirk also set up the Playwright's Division of the American Theatre Association.
---
Abby Scott
Abby grew up in Peoria and started doing theater in elementary school. She majored in theater (and economics) at Oberlin College. She then home for New York where she studied the Meisner technique at the William Esper studio, performed in off-off-off-off Broadway shows, did stand-up comedy in various clubs and bars, and ran her own comedy shows. She stopped performing from 2008 – 2014 when when she became a part of the 10 minute plays at Heartland.
Abby is a data scientist by trade, having worked for Caterpillar, State Farm and currently as a statistical modeler for Country Financial. Abby is particularly interested in encouraging diversity.
---
NEW MEMBER! Melissa James Shrader
Melissa has been in love with the theatre since her childhood. She has performed in several productions in her hometown of Bloomington/Normal for well over 20 years. Many of those performances were done with Heartland Theatre Company, The History Makers Gala for the Illinois Voices Theatre, Community Players, The Evergreen Cemetery Walk, and New Route Theatre Productions. She also serves on the Advisory Board for the School of Communication at Illinois State University. Melissa works at State Farm Insurance Companies as a Manager in the Corporate Responsibility Department. In this role, she feels blessed to be able to support the community through her company's philanthropic efforts. Melissa has always appreciated and enjoyed performing at Heartland Theatre, as this company welcomes diversity and inclusion, it highlights different play genres and provides the opportunity for playwrights to showcase their talents. Heartland Theatre feels like home!
---
Todd Wineburner
Todd graduated from Illinois State University with a double major in Theater and English. He's a veteran of the United States Air Force and during that service he worked for the Armed Forces Radio and Television Service at Comiso Air Station, Italy. He continued in broadcasting after leaving military service, and he's worked at several radio stations in central Illinois including WJBC in Bloomington and WJEZ radio in Pontiac. Somewhere in the mid-90s, Mike Dobbins invited Todd to join the board of directors and he has proudly contributed in a variety of capacities at Heartland, including board Past President, actor and writer. He's swept the floor a couple of times, too, but not as often as some people here. Todd is currently the head of the committee that selects each season's 10-minute plays.
---
Ann B. White
Ann received the 2017 Women of Distinction "Arts and Entertainment" award for her work in establishing the Young at Heartland senior acting troupe for Heartland Theatre. She frequently appears with the YAH troupe as well as on the main stage at Heartland (FALLING, 10-MINUTE PLAY FESTIVALS, MIDDLETOWN, TRUE WEST). She has performed in the Evergreen Cemetery Walk and is waiting for the screening of the movie "The Little Vagabond" in which she portrayed the meddlesome "Vernice."
She also serves as historian for the Vladimir/Canterbury Sister City Association and Heartland Theatre. During her career as a primary and reading teacher, she enjoyed engaging students in creating puppets and using them to act out books they had read.
---
Michelle Woody
Michelle began attending Heartland productions almost 20 years ago and is proud to serve the theatre now as an actress and board member. She attended Illinois Wesleyan University in the BFA Acting program and eventually received her BA in English from Illinois State University. She has worked at ISU for over 10 years and is currently the Budget Manager for the School of Theatre and Dance. You might have seen her perform at Heartland in FOR THE LOYAL, CLYBOURNE PARK, EARTH AND SKY, and other plays. Other local credits include shows with Community Players Theatre in Bloomington, Corn Stock Theatre in Peoria, and the McLean County Museum of History "Making a Home" exhibit. Regional credits include commercial and voiceover work in Louisiana and Colorado.
---
Bill Zimmerman
Bill Zimmerman received a BA in History and Sociology at Northern Illinois University, in 1973. He began working for Country Financial in 1973, as a Field Claims Representative, and in 1986 was sent to Kansas City as Claims Manager for six western states. Bill came to Bloomington in 1990, promoted to Director of Corporate Support Services at Country Financial, overseeing all construction, maintenance, and repair as well as being responsible for leases, construction, furniture and equipment, and administration of all field offices in 21 states. After retiring in 2013, after 38 years of service, Bill turned to community service, currently serving on McLean County Historical Society Board and ISU Senior Professionals Board, and serving on the Public Building Commission, Bloomington Library Foundation Board, and American Legion Honor Guard.